In the lead up to and during the Global Refugee Forum, around 50 States pledged to improve aspects of their national asylum systems or provide asylum capacity support, in addition to support offered by other stakeholders. These pledges and commitments made at the first Global Refugee Forum (GRF) became the prioritized starting point for ACSG matches although new requests for and offers of support may also be submitted. The ACSG Secretariat is in the process of establishing matches between stakeholders in collaboration with UNHCR Bureaux and country offices, as well as the concerned entities. As matches are formalized, they will appear on this page.
For information about other pledges made at the Global Refugee Forum, please see the Pledge and Contributions Dashboard
The boundaries and names shown on this map do not imply official endorsement or acceptance by the United Nations.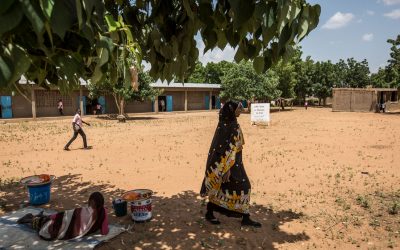 [Under discussion]
The Government of France through the coordination of the Office for the Protection of Refugees and Stateless Persons (OFPRA) has indicated that it is interested to discuss support for Chad's National Eligibility Commission (CNE) to strengthen its asylum system and pursue asylum capacity strengthening efforts
read more
The following outlines pledges or commitments in the area of asylum capacity strengthening made by States and other entities at the first Global Refugee Forum (GRF) in December 2019 as well as pledges submitted after the GRF. Pledges on asylum capacity relate to: (a) further development of one's own national RSD system, (b) provision of technical and/or other support to other states, (c) both types of pledges i.e. self-improvement as well as supporting others, and (d) financial contributions.
Strengthening efficiency of the asylum system in Bosnia and...
read more
Medida complementaria para la documentación de las poblaciones...
read more
DRC support to the Asylum Capacity Support Group mechanism-...
read more
La RDC a mis en place un systeme simplifie de determination du...
read more
1. Improving access to translation and interpretation for refugees...
read more
EAC Pledge/Commitment on making the Global Compact on Refugees work...
read more
Amélioration de l'accès à la justice des minorités, groupes...
read more
Strengthening of protection and solutions mechanisms at the national...
read more
Promoting compliance with asylum legislation through research and...
read more
We stand ready as a possible partner in ACSG.
read more
1. Asylum systems and capacity support; Support the...
read more
Mise en place d'un Bureau des apatrides et réfugiés; Le Ministère de...
read more
1. Prepare the bill on the right to asylum for its adoption by 2020;...
read more
1. Increase of the reception capacity in Montenegro according to...
read more
Support to the Asylum Capacity Support Group: In line with its...
read more
Support protection capacity within the Pacific region; Working with...
read more
Strengthen asylum case management, through upgrading asylum module...
read more
Monitoring of refugee status determination procedures/individual...
read more
1. To enhance policy, legal, and operational framework to ensure...
read more
Assisting and understanding psychologically vulnerable applicants in...
read more
Policy accompaniment to strengthen adjudication of asylum claims...
read more
Strengthening the National Capacity for Protecting Refugees; As the...
read more
South Africa's Intent to resolve the backlog in refugee status...
read more
We pledge to contribute to the strengthening of national asylum...
read more
La Suisse s'engage à améliorer la procédure de reconnaissance et la...
read more
Identifying the Best Institutional Architectures in Governance of...
read more
The pledges on asylum capacity strengthening displayed on this page and elsewhere on the Portal, are drawn from the Pledges and Contributions Dashboard available on the Global Compact on Refugees (GCR) Digital Platform. These pledges were officially announced during the Global Refugee Forum (GRF). Pledges or commitments on asylum capacity strengthening, made post the forum continue to be updated on the dashboard and will appear on this page. Should you wish to bring to our attention, any inaccuracies or make any comments, please write to us at [email protected]