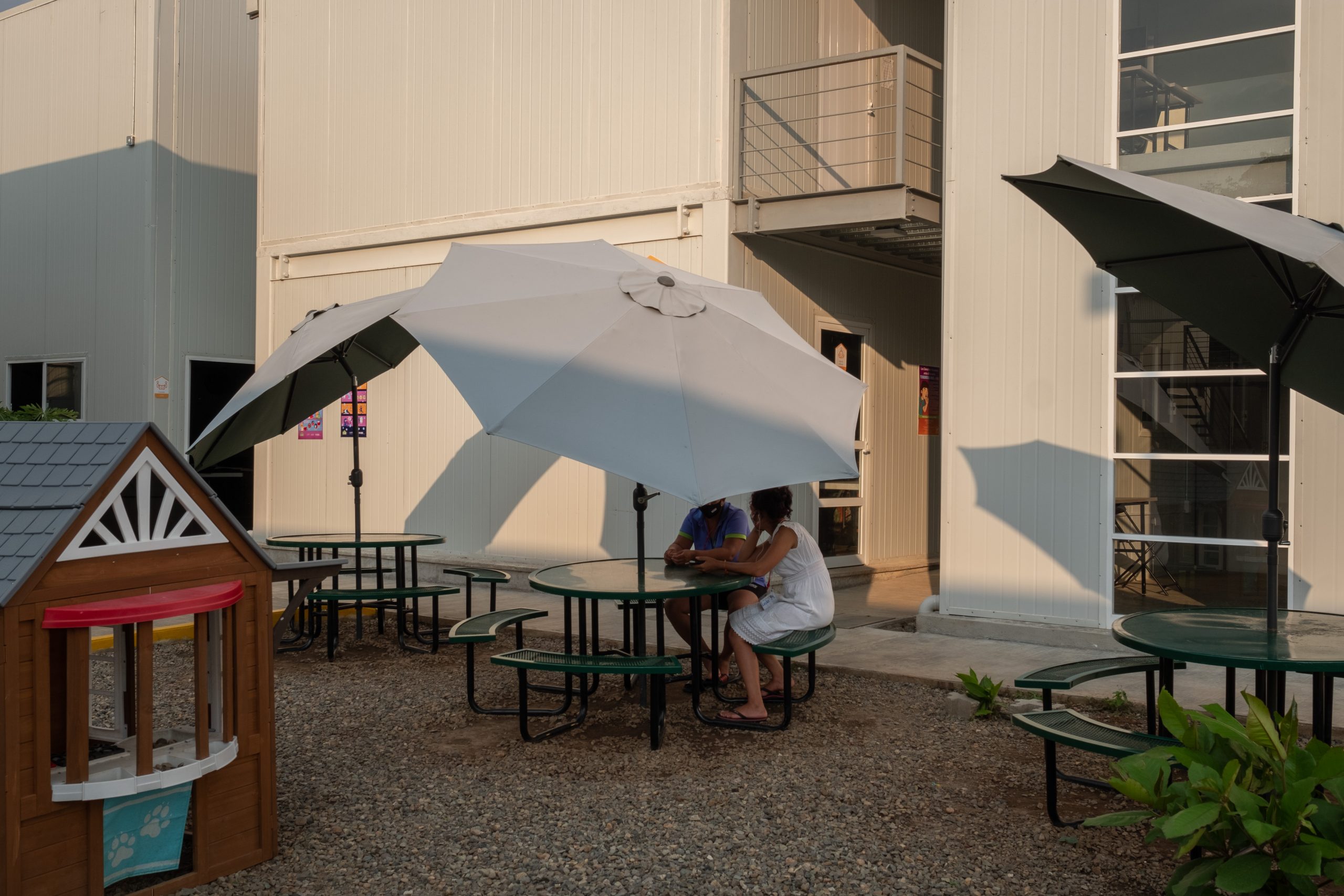 Mexico. ©UNHCR/Jeoffrey Guillemard
Periodo de tiempo: 2019 - Ongoing
Entidades que comparten las buenas prácticas: Comisión Mexicana de Ayuda a Refugiados (COMAR)
Remitido por: Comisión Mexicana de Ayuda a Refugiados (COMAR)
Socios: COMAR / UNHCR Mexico (QAI Initiative) 
Visita su página web: https://www.gob.mx/comar
The Mexican Commission for Refugee Aid (COMAR), in coordination with local authorities and UNHCR support, has strengthened its response capacity in recent years to register and process cases of people in need of international protection, given the gradual increase in the number of asylum applications in the country since 2014. For instance, the number of asylum claims registered in Mexico jumped from 1,509 in 2014 to 51,622 in the first six months of 2021.
The state of Chiapas, at the southern border of Mexico, has been receiving the highest number of asylum applications in the country. In 2019, around 70% of all asylum applications were made in Chiapas by people from Honduras, El Salvador, and Guatemala, among other nationalities.
Against this backdrop, to enable efficient and fair adjudication of asylum applications, in September 2019, the COMAR Registration Centre was established in the city of Tapachula in Chiapas, near the Mexican main entry point. This new centre which has a wide capacity in terms of reception saw the implementation of a restructured step-by-step registration process for asylum-seekers, from their arrival to the centre to the issuance of COMAR's documentation.
Additionally, a UNHCR Refugee Service Center was opened near the COMAR registration centre to create a refugee centre that brings together all the entities that provide different services to asylum-seekers and refugees located in the area to improve the provision of services.
Impact of the good practice
-The COMAR Registration Center has the capacity to register approximately 250 cases per day with the possibility of expanding capacity based on a possible increase in resources (human and material). Of the 51,622 new refugee applications filed in Mexico in the first six months of 2021, 70% were made at the Tapachula registration center. The main nationalities were Honduran, Haitian and Cuban.
-In addition, the registration process which consists of the following step by step process has shown to be more efficient in reaching high quality standards in registration and assistance management: (1) Identity verification, (2) Asylum application form filling, (3) Photograph taking, (4) Interview with COMAR Assistance team (5) Documentation issuance and (6) Triage for differentiated procedures. Using this step-by-step process considerably reduced the registration process time from 10 working days, as stipulated in the law, to only 2 hours.
-As the registration centre is located at a site with large open spaces, the registration process was adapted during the pandemic, to limit crowding in closed spaces and taking advantage of open spaces to establish sanitary measures, such as setting up waiting areas and new individual modules outside, to allow people to observe physical distance and to fill the asylum application form within individual space.
Flowchart[1]  of registration process in Tapachula, Chiapas: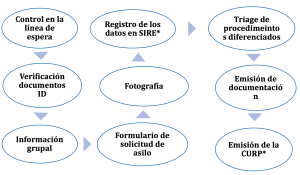 [1] SIRE: Sistema de Información sobre Refugiados or Refugees Information System, which is COMAR's Registration, Case management and Database system.
CURP: Clave Única de Registro de Población or Unique Population Registration Number.
-Finding a suitable site with strategic location for the registration centre.
-Receiving approvals required to formalize the site contract.
-Managing public opinion and possible resistance from the host community to opening a larger service site.
-Containing the entire population of interest within the same place and avoid crowds of people in times of pandemic.
-Adapting to a new step-by-step registration process from the staff perspective.
-Although it was a challenge to find a strategic location and receive approvals to formalize the site contract, as well as to obtain the acceptance of the host community to establish the Registration Center, these steps were essential to facilitate easy access to the population (distance to foot, for example).
-Adjusting to a new step-by-step registration process was challenging at first; however, through capacity building support, registration staff were able to adapt to the new workflow and division of tasks, thus reinforcing a sense of belonging.
-The implementation of a formal work plan between COMAR and UNHCR, following a participatory and transparent work methodology, supported collaboration with different actors. All planning was done through participatory meetings with COMAR and UNHCR stakeholders, ensuring that the Registration Center met COMAR's needs taking into account previous "lessons learned", local customs and authorities, and public concerns.
On March 30th, 2021, Mexico declared a state of national health emergency in light of the COVID-19 pandemic, which resulted in the suspension of non-essential activities in the public, private and social sectors and encouraged the population to voluntarily limit mobility and follow the "recommendation to stay at home". Given that access to asylum was considered an essential activity, COMAR continued to register new asylum applications in its offices at national level, while subsequent processing was and, in some instance, still is being carried out remotely.
To ensure continuity of services while observing health and safety protocols, physical adaptations were made at the new registration centre such as expanding the internal waiting area in the medium term and developing different systems for more agile care to protect both the population of interest and COMAR officials.
To mitigate the risks of COVID-19 infections, protocols were implemented in coordination with Civil Protection and security forces. Mechanisms were implemented to detect possible cases for quick attention and ensure the distribution of face masks and antibacterial gel to people waiting in external areas.
Likewise, mechanisms were implemented to ensure that people could perform hand hygiene. In addition, COMAR instituted the issuance of appointments to avoid excessive concentration of crowds, maintaining the issuance of documentation for the same day of registration.
COMAR, through the Quality Assurance Initiative (QAI), is transitioning through a digital transformation to simplify its internal processes in terms of registration, assistance, protection or eligibility, legal and statistical steps of the asylum procedure. By the end of 2020, the File Verification and Digitization project was launched at the COMAR office in Mexico City and has now spread to the other COMAR main Offices including Tapachula, paving the way to a new digital archive system which will enable eligibility officers to access and consult asylum cases within minutes.
In addition to having more efficient document management that saves space, the digital filing system has been linked to the COMAR registration system (SIRE), allowing for greater data collection and facilitating COMAR's issuance of documentation during the asylum procedure, as well as the production of more accurate statistical reports, among others.
Both digital systems are shaping the COMAR ecosystem of digital applications, that includes a language platform, a COI repository and a self-service module exclusively dedicated to the asylum-seekers to fill their pre-registration form, to check the status of their application and receive notifications from COMAR. Additionally, the ecosystem will be interoperable with other governmental institutional systems to facilitate data sharing processes, including COI sharing with the Ministry of Foreign Affairs.