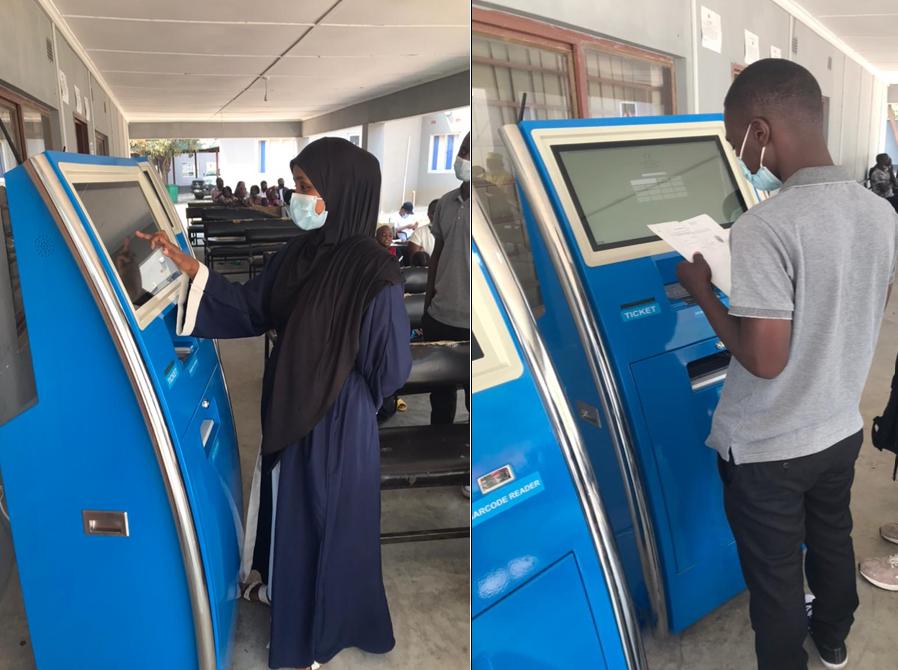 Refugee self-service kiosk at the Lusaka COR office ©UNHCR
Timeframe: December 2020-Ongoing
Entities sharing this good practice: Office of the Commissioner for Refugees in the Ministry of Home Affairs and Internal Security.
Submitted by: Tobias Tjivirura, Olivier Rangira & George Kadama- UNHCR
Key stakeholders: Government of Zambia, UNHCR, asylum-seekers and refugees, ACCENTURE PLC (for BIMS API)
Visit their website: 
In Zambia, the Office of the Commissioner for Refugees (COR), within the Ministry of Home Affairs and Internal Security, is the mandated government agency to deal with refugee matters. COR registers and documents asylum-seekers and refugees (hereinafter refugees) in its territory on arrival and maintains refugee data in Zambia.
COR uses UNHCR's electronic case management system known as progress v4 and Biometric Identity Management System (BIMS) to register asylum-seekers in four different locations namely Meheba, Mayukwayukwa, Mantapala Settlements and urban settings such as Lusaka.
UNHCR works closely with the COR, as well as other key line ministries and partners to implement registration activities and provides necessary technical support including software deployment and maintenance, installation and maintenance of IT hardware equipment/device and capacity development trainings to COR to use these systems.
At the 2019 Global Refugee Forum, the government of Zambia made a pledge to ensure refugees have access to civil registration and legal documentation. In the implementation of this commitment, COR with support from UNHCR commenced the setting up of the 'Refugee self-service kiosk' at the Lusaka COR office.
COR and UNHCR have developed the 'Refugee self-service kiosk' as part of an effort to improve refugees' access to information and to their personal data in Zambia. The self-service kiosk was first installed at the COR Office in Lusaka, based on a software application developed locally by a team of experts from UNHCR and Zambia government.
For the user, the kiosk is a physical self-service touchscreen that provides a user interface linked to case management systems (proGres v4 and BIMS). Refugees login using biometric authentication via fingerprint scanner.
The self-service kiosk can be used to:
i. Renew or print identity documents.
ii. Access and update basic information like photo, name, sex, age, contact details etc.
iii. Initiate applications for first issuance of urban residency or renewal of urban residency cards and family refugee certificate.
iv. Make appointments with various protection units.
v. Give feedback on service delivery and complete various surveys such as intention to return and living standards.
vi. Access the status of asylum applications.
Records of the use of the kiosk and transactions carried out, for example, transactions involving the printing of documents are automatically recorded in proGres and BIMS.
Impact of the good practice
The following outlines some of the benefits of setting up the self-service kiosks:
Improved accessibility: The kiosks have improved accessibility to services and enabled refugees to have ownership of their own data e.g., by allowing refugees to update their personal information. Since the rollout of self-service kiosks in 2020 to date, 5% of refugees in urban Lusaka specifically population aged of 18 years old and above have used the kiosk to apply for residence permits and renew asylum-seeker and refugee certificates.

Time efficiency:

The kiosks have led to a decrease in processing and waiting times as documentation, such as asylum-seeker and refugee certificate renewal can be printed instantly without being attended by staff which also increases the integrity of the services by promoting a fair and efficient processing of registration activities and refugee applications.

In addition, the ability to renew identity documents has promoted resilience and self-empowerment of refugees.
Enhanced accountability to affected populations: The kiosks have strengthened partnerships between refugees and the government e.g., it has enabled refugees to give feedback on user experience through surveys.
Cost effectiveness:

The kiosks have led to reduced cost and enhanced efficiency of other processes and human resources allocation. For instance, it has enabled an ordered queuing system promoting the First Come First Serve (FCFS) practice, self-printing of appointment tokens without queuing for various inquiries and self-documentation application and applications status check without human interaction that has also increased trust and transparency in service delivery. It has allowed a more effective and planned response on the ground through better managed ticketing system and

reduced the number of staff that previously provided these services.

It also led to

reduced crowding at service facilities which has been especially useful during the COVID-19 pandemic.

It has also reduced costs for refugees by reducing travel and enabled them to obtain solutions

faster for straight forward issues.

Furthermore, automation reduces the number of staff that used to provide these services.
Fraud mitigation:

The digitalization of services through self-service kiosk initiative mitigates the potential for fraud.

The kiosks have furthermore empowered refugees to check the status of their asylum application without requesting the support of COR officers, thereby strengthening the integrity of the process, and reducing speculations of corruption.

Furthermore, the use of biometrics prevents the

duplication of service delivery through iris or fingerprints verification to uniquely authenticate beneficiaries.
User feedback is important and can be used for further development of the self-service kiosk through continuous monitoring e.g., audio-visual user interface can make the tool more interactive.
Refugees need to be sensitised as new tools come with new challenges such as the willingness to use the tools partially due to a distrust of automation.
Continue to gather feedback from users to further develop or introduce adaptations to the self-service kiosk.
The self-service kiosks are not yet available at the settlement level. Hence, the next step would be to expand the implementation of the services in the foreseeable future to the settlements of Meheba, Mayukwakwa and Mantapala and subsequently to the urban areas such as Ndola, which are far from service providers.