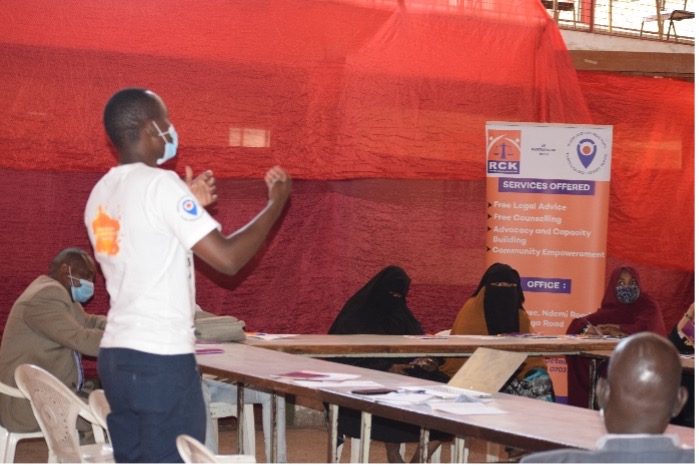 An RCK Officer during a training and capacity building session for refugees and host community members, on refugee rights. The training was held in Nairobi and Covid prevention protocols were observed. ©UNHCR
Entities sharing this good practice: Refugee Consortium of Kenya (RCK)
Submitted by: Eunice Ndonga Githinji, Executive Director
Partners: UNHCR Kenya
Visit their website: https://www.rckkenya.org
Established in 1998, the Refugee Consortium of Kenya (RCK) is a legal aid organisation whose mission is to safeguard and protect the rights and dignity of asylum-seekers, refugees, and host-communities through provision of legal aid, psychosocial support, advocacy, capacity strengthening and promotion of inclusive governance.
RCK works closely with Refugee Affairs Secretariat (RAS), the government agency that is responsible for refugee management in Kenya, including recognition of refugee status. RCK strives to ensure that support is provided to asylum-seekers on issues that affect their protection, particularly access to asylum.
RCK engages with both asylum-seekers, refugees and host communities through various platforms such as the protection monitors' scheme. The monitors are based in various parts of the country including refugee camps and border/transit routes and are trained by RCK to identify human rights violations in the community. The monitors thereafter identify and refer asylum related cases to RCK that require legal aid intervention. These cases include persons charged with residing outside designated areas without authority and being unlawfully present in Kenya. Other cases that RCK handles includes incidents of sexual and gender-based violence, child protection among others, where both legal aid and comprehensive psychosocial support for survivors is provided.
As part of its work, RCK strengthens capacity of and conducts familiarisation sessions on asylum related matters with law enforcement officers, court prosecutors, magistrates, court registry staff and detention officers all over the country through consultations, trainings, monitoring missions and regular visits to select stations.
RCK's legal and psychosocial support programme (LAPS) forms the bulk of RCK's interventions. It is made up of a team of advocates, counsellors, and lawyers. RCK complements its legal aid and advocacy work with counselling support on all cases. This counselling is particularly useful for refugee status determination (RSD) cases at first instance and appeal interviews to deal with trauma where necessary. The counsellors may also help with credibility assessment and interviews with minors on a case-to-case basis, which information is used in final internal case processing decisions.
RCK works with several donors and partners on legal aid support including United Nations High Commissioner for Refugees (UNHCR), UN Women's United Nations Trust Fund To End Violence against Women (UNTF), the Swiss Federal Department of Foreign Affairs (HSD) & Asylum Access.
Since January 2019, the RCK-UNHCR-Refugee Affairs Secretariat (RAS) multiyear partnership has allowed for a streamlined sharing of cases that require asylum support and expedited interventions. UNHCR has been a hands on implementation partner in the advocacy review of the Refugee Act, leading to The Refugee Bill, 2017 and The Refugee Bill, 2019. RAS officers carry out asylum assessments on cases where RCK intervenes for speedy resolution of cases or where the court itself request for an assessment from the RAS. The multiyear partnership also includes an annual extensive 3 day legal practitioners training on refugee law conducted for between 20-30 advocates. These practitioners go on to take up cases from refugees and asylum-seekers and provide legal aid at the courts and The Refugee Appeals Board (RAB).
Regular monitoring missions on the identified flight corridors for asylum-seekers, conducted jointly with UNHCR and RAS, have been instrumental in creating working networks that have been invaluable in supporting asylum interventions, particularly during the COVID-19 pandemic. This has also brought visibility for RCK as an asylum support organisation and has enabled concerned individuals all over the country to reach out to RCK, including at border points and prisons.
Additionally, RCK has supported access to asylum by developing information, education and communication (IEC) materials for dissemination in the community. RCK is presently working on posters and brochures together with RAS and RAB to show sample refugee/asylum-seekers documentation, information on RSD Appeals as well as sharing UNHCR, RAS, RAB & RCK contact information, which will ultimately improve access to asylum.
RCK's legal aid protocol for asylum cases is that matters are handled on a case-to-case basis, with each case having different considerations. RCK requires asylum-seekers to ensure they have complied with the formalities of seeking asylum i.e. registration of the intent to seek asylum. This is particularly important since RCK works closely with RAS and supports the government in ensuring that asylum-seekers have discharged their responsibilities under the Kenyan law. This initial due diligence requirement also informs which RCK office will handle the case due to RAS pronouncement in 2017 that all new cases must go through RSD in Kakuma camp and Kalobeyei settlement.   
Delay in statutory timelines: One of the largest challenges in asylum support has been the length of time taken for first instance RSD to be conducted and decisions issued. There are a large number of asylum-seekers who are yet to be heard on their asylum claim at the first instance.
The closure of the courts and downscaling of activities during the pandemic means that often persons seeking asylum, including women and children, have faced lengthy incarcerations in police stations and prisons. This has been particularly noted on the flight corridors, prisons and border towns. RCK provides legal representation for such cases and follows up with relevant authorities for review of court orders.
Lack of adequate and multiyear predictable financing for local actors to sufficiently support access to asylum: While it is ideal to have all persons seeking legal representation attended to, this may not be possible due to resource constraints and the time taken to work comprehensively on each case. With more funds, more resources can be geared towards asylum case identification and management, as well as towards capacity building for practitioners.
In cases where RCK has represented asylum-seekers either through its officers or pro bono counsel, it has had a highsuccess rate. The first instance due diligence interviews conducted for each individual seeking assistance has certainly impacted the efficiency and integrity of the process. RCK is able to get all the information pertaining to the case in the interview as well as screening for any credibility concerns. For instance, the interviews conducted may check for elements of smuggling and human trafficking.
As a legal aid organisation that has presence in Nairobi, Garisssa, Kakuma, Dadaab camps and Kalobeyei settlements, RCK has a good relationship with the courts and law enforcement officers. Hence government officers engage RCK to support them in providing information to aid in making decisions.
RCK's practice to work closely with RAS, ensures that RCK is able to advocate and mitigate, often successfully, with their counterparts on resolution of asylum cases.
RCK believes that its efforts to strengthen the capacity of stakeholders in the criminal justice system on the asylum process has positively and largely impacted the efficiency on asylum support. For instance, in police stations and courts around Nairobi, where RCK has done extensive capacity support, RCK rarely has asylum-seekers arraigned and where they are arraigned, the court prosecutors will often make the application to have the government verify the said person's status without reaching out to RCK. Law enforcement officers are also able to interpret the identification documents and will only reach out to consult.
RCK also provides trained interpreters on asylum matters in courts when a request has been made. This has helped with effective representation, allowing the accused persons to mitigate their plight in court.
In June 2020, during the COVID-19 period, RCK put in place SOPs to adapt to the implementation of legal aid via phone, making it possible for communities to access legal aid. In addition, RCK provided its officers with smart phones and monthly airtime allowances to ensure that they are able to carry out remote interviews for cases and attend virtual court proceedings.
RCK has not experienced any adverse effects in the legal aid work. Asylum-seekers and host communities have been able to access our offices through the alternative means set up to adjust to the remote case management system. Where it was necessary to have in person interviews, the new SOPs provide for protection of RCK officers and its community workers from exposure.
Continued collaboration with RAS, RAB and UNHCR will enhance effectiveness of asylum support, having in mind that the State is the one that accords asylum. Legal representation by RCK, at the first instance RSD interview will be important to ensure that asylum seekers receive the necessary legal support.
Trainings and capacity strengthening sessions for state and non-state actors, whether formal or informal go a long way in discussing various protection aspects of asylum while contextualizing the asylum cases.
Information gathering and comprehensive interviews for each case is imperative to build a strong case for intervention and effective advocacy, including having interpreters present where there is language barrier.